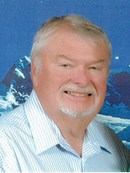 Distinct Golf mourns the loss of 44 year employee Ronald D. Harbonic.
Ronald D. Harbonic, 65, of Bernville, passed away Wednesday, Sept. 18, 2019, in rural Kaltag, Alaska, while on a hunting trip.
Born in Reading, Ron was a son of the late Stephen and Dorothy (Stoudt) Harbonic.
He was the loving husband of Dr. Barbara Mann-Harbonic. He was a 1971 graduate of Hamburg Area High School and a 1975 graduate of Penn State University with a degree in accounting. Ron served as vice president of operations for Distinct Golf, operating out of the Hidden Valley Golf Course location in Pine Grove for the past 44 years. He was a founding member of the Pennsylvania Golf Owners Association. He served on countless charity tournament boards over the years, including The Bill Jones Memorial, The Pennsylvania State Troopers Camp Cadet board and The Larry Postupak Memorial for Pennsylvania State Troopers. Ron was an avid sports fan and loved the great outdoors. He loved sharing his passions for sports, hunting and fishing with his family. He was a member of the Hornet Nest Hunting Camp in Lycoming County. He volunteered on many youth sports teams for his children and served on the Upper Bern Recreation Board. Ron enjoyed spending time with his family and friends in Ocean City, N.J., and the family camp in Sebec, Maine. He will be remembered by all of us for his kindness and generosity towards others.
In addition to his wife, Barbara, Ron leaves behind the pride and joy of his life, son, Joshua D., and daughter, Julie L., both of Bernville; a brother, Barry J., husband of Susan (Witman) Harbonic, Bernville; nieces, Stephanie Miller and Jennifer Unterkofler.
Services will be held at 11 a.m. Saturday at Leibensperger Funeral Homes Inc., 223 Peach St., Leesport. Burial will follow in Frieden's Cemetery, Shartlesville. A visitation with the family will be held in the funeral home from 9 to 11 a.m. Saturday. Memorial contributions may be sent to Frieden's Church Bell Tower Fund, P.O. Box 366, Shartlesville, PA 19554. For online condolences, please visit www.leibenspergerfuneralhomes.com.